Hello everyone! Once again it's been a very busy month but I hope everyone's enjoying their Spring Break! At University this month we just completed our Stage Combat and Textual Studies assessments and have a couple more to do when we go back with additional essays. This month I signed up to be a model for the Fashion students, so I'll get to wear their amazing clothes and maybe do a few photo-shoots and runways in the future which should be really exciting... but for now I'm back home in Birmingham, chilling out and watching movies. I've got loads of blog post ideas coming next month but please let me know if there's anything you'd particularly like me to write about. This blog is usually make-up and beauty based with travel and lifestyle but I don't mind occasionally stepping out of that for fun. There's now a little poll in my right hand sidebar if anyone fancies voting for what they'd like to see more of, I'd appreciate it muchly! The image above is from: singsnap.com and a few others throughout this post are from Google search.
Book of the Month.
I got this book at the same time as "The Girl With All The Gifts" by Mike Carey but never got round to reading it, until now. "Miss Peregrine's Home For Peculiar Children" is by Ransom Riggs and follows Jacob, a boy searching for answers to the many questions he has about his Grandfather and the mysterious life he once led. The book has a really vintage old-fashioned feel but still manages to stay true to modern day values and it contains the most beautiful printed pictures of the peculiar children which adds an extra layer of realism to the book. The characters are all very unique and well constructed, everything in the book is extremely detailed which I love because not only are you able to truly imagine what the writer intends but the photo's I mentioned earlier really connect the dotes which really worked, especially in the context of the story. Miss Peregrine's is going to be released in the UK and the USA on the 30th of September as a movie, directed by Tim Burton! I'm hoping they won't cut too much out but with Tim Burton I'm confident that he'll keep the creepy and dark feel that you get from reading the books. I'm not one hundred percent sold on the cast just yet, except for Judi Dench, but I'm sure that once I see the film I'll love it like I love all of Tim Burton's movies. The trailer for this movie is posted on IMDB.
Movies and TV.
I did it... I finally started watching the "Saw" films! This month I had a movie marathon of them with my dad and kept freaking out at the twists at the end. I love scary movies and horrors and these are brilliantly gruesome and mind-boggling. I use hide behind a cushion in anticipation throughout each movie and talk a lot because they make me a little nervous. Normally when movies do sequels with cast changes I don't really like them but these worked really well with the concept and the twists at the end really do get me every time!

"Once Upon A Time, Season 5" has got to be the best series yet, purely for the Underworld element. I'm really enjoying the character of Hades with his blue CGI hair and how the Hero squad are trying to save Hook. I also really love the cool plot twist at the end of last weeks episode and I can't wait to watch the rest of the series.

"Rupaul's Drag Race, Season 8" is hilarious this season. My favourites at the moment are Thorgy Thor, Kim Chi and Robbie Turner. I also think that Chi Chi is hilarious and Naomi's legs are insane! I'm not really liking Acid Betty but she might change my mind in the next few episodes, who knows?
Song of the Month.
"Dangerous Woman" by Ariana Grande
is the song of the month.
I'm guessing by now that everyone's seen the incredible acapella version of this song that's been spreading all over Facebook, YouTube and Twitter and if you haven't you definitely need to go and watch it. I love Ariana's music usually because it's guaranteed to be upbeat and cheerful but this song is something else. The acapella version really shows her vocal talent. Over the years Ariana has definitely just got better and better vocally and this song really showcases her low and high range. I'm not keen on the costuming on the album cover but the song itself is amazing! I'm really looking forward to listening to the rest of the album!
Make-Up.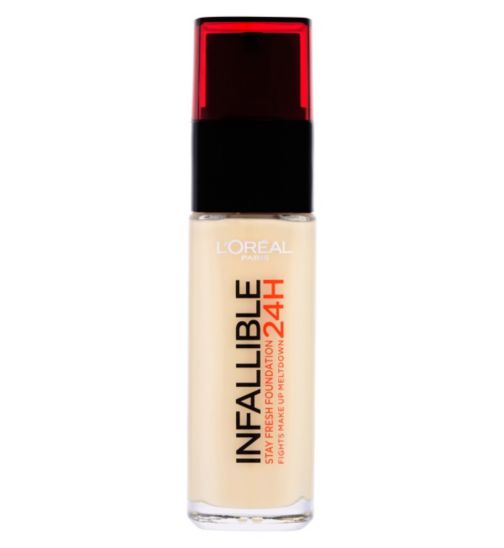 My make-up product of the month has got to be the "Infallible 24 Hour Foundation" by L'Oreal. It makes the skin really even and smooth and looks great in photographs too. The coverage is truly amazing, especially for a drugstore brand! It wears off slightly around the nose throughout the day but I think that's due to me not setting it properly with powder or I might just need to use more of the product on that area. I broke the pump on my bottle so had to tear the lid apart to actually use the product, so be warned! If you want to buy this foundation it also comes in a squeezable tube and I recommend getting that one rather than the one with the pump to prevent the risk of having to break the bottle. The only thing that really puts me off of this foundation is the fact that L'Oreal test on animals but if that doesn't bother you it's the perfect foundation, especially for oily skin. For the price and the long-lasting effect I think it's definitely worth the money.
Skin Care.
Growing up I had incredibly bad acne (on my face and back) and ended up having to go to the doctors, who put me on medication to get rid of it. The medication varied from tablets to creams and eventually I went on the pill for about a year. I didn't know what skin type I had in high school - where it all started - and doctors didn't even think to look into that or to let me know that the products I used to get rid of acne actually made it worse. For those of you who really struggle with spots and break outs, find out your skin type! It helped me so much. You can imagine the problems that occurred from someone with oily skin using products for dry skin, it made me more oily. My monthly favourite for this month is actually a website that helps you figure out what skin type you have and gives you tips to get rid of any problem areas. I really like that they give you a list of products as well. Not only do they give you the answer to what skin type you have but they also provide you with the solution to fix the problems.
Reneerouleau
is an incredible esthetician and skin care brand. I took their online Quiz and it determines that I'm Skin Type 3. They also have an advice blog section on their site where you can look at your problem areas in more depth and ask questions.
Hair Care.
There's not too much for me to report this month in terms of hair care. I've got myself a routine now and I only use specific products; I can make a separate post for that if anyone wants to know more details. Due to the weather being cold, my hair gets damaged and dry quite easily so I have to use more coconut oil and cut the split ends a lot more in the Winter and Spring. Sadly I don't have a hair style of the month either due to the fact that I've actually been wearing my hair down more as I've not been at University. Fingers crossed for next month!
Double 22 Two Racing.
Recently my dad (Pete) and his friend (Martyn) formed a team for their race series with No Limits called Double 22 Two. They had their first race this weekend at Oulton Park and came 1st place in the 600 Newcomers Endurance Category. They've both been riding bikes for as long as I can remember and it's so amazing to see them winning awards for something they're so passionate about. Their next race will be at Snetterton in three weeks time! If you know any one wanting to advertise their business feel free to take at look at the Double 22 Two website and get them to sponsor the team.
That's everything for this month! Thank you so much for reading, hope you all have a happy Easter and party all through Spring Break! There will be more theatre reviews next month, so look out for those!
Lots of love,
Alexandria.